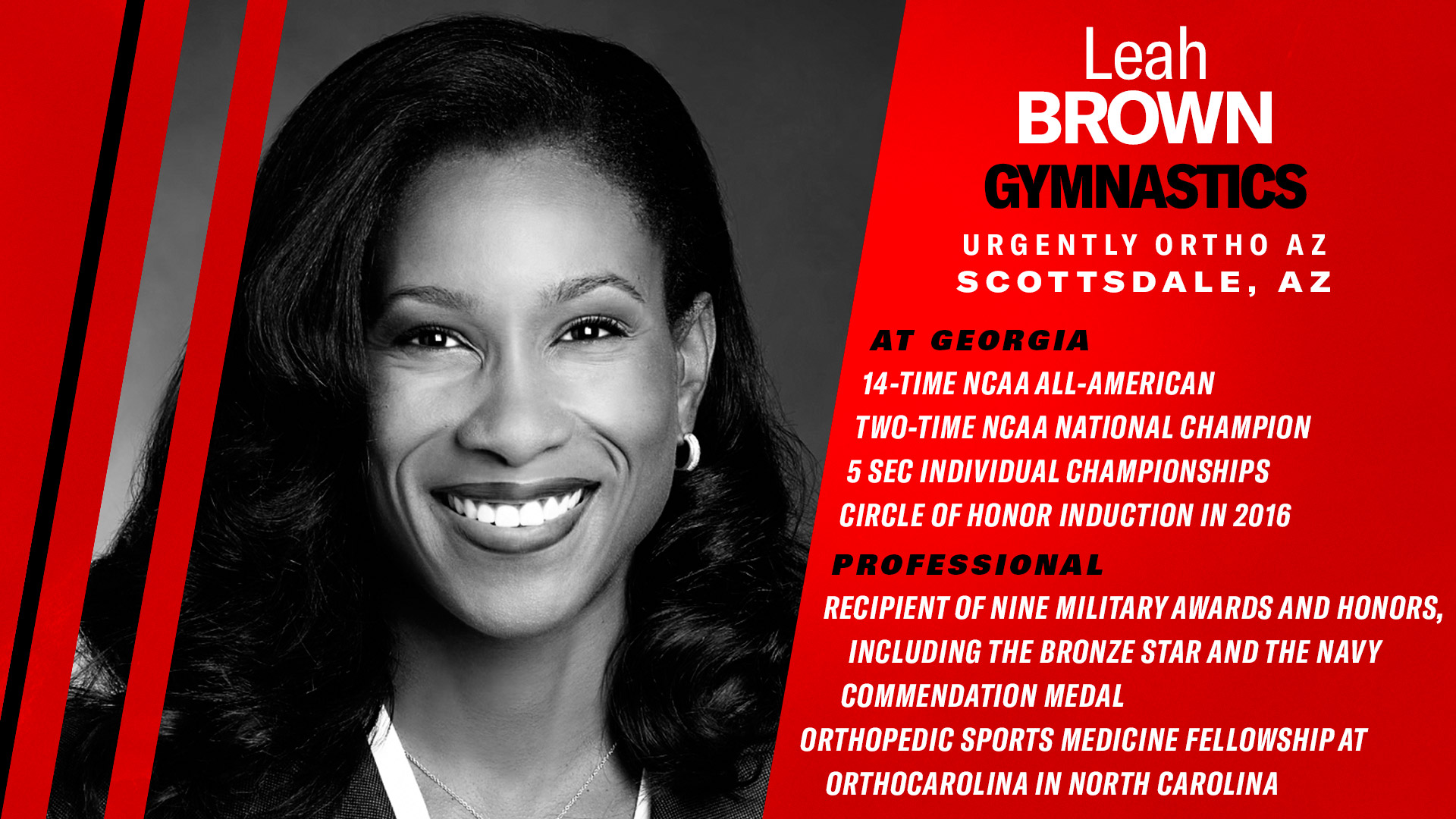 Leah Brown, an Atlanta native, was a 14-time All-American for the GymDogs, including the 1996 vault and 1997 floor national championships. She also claimed SEC titles on vault and floor in 1996 and 1997 and on bars in 1997.
Brown helped Georgia win conference team crowns in 1994, 1996 and 1997. She was the first gymnast in NCAA history to score a 10.0 in her first collegiate meet and she went on to boast 19 in her career (16 on vault, three on floor). Brown also was the first Georgia freshman to win the SEC all-around title, doing so in 1994.
Brown was a two-time Academic All-SEC selection and she was a member of Leadership UGA and Student Athletic Council leadership organizations and the prestigious Omicron Delta Kappa, Blue Key and Palladia honor societies. She won the Arthur Ashe Award for Black Issues in Higher Education in 1995 and was selected as a finalist for the state Sportswoman of the Year in 1995.
Brown has served two tours of duty in Afghanistan as an orthopedic surgeon in the Navy. She was awarded the Bronze Star for her humanitarian efforts treating women and children in Afghanistan.
Brown graduated in 1998 with a degree in Genetics. She earned her medical degree at Ohio State and the Cleveland Clinic Foundation in 2003.
Leah Brown, MD
Orthopedic surgeon that serves the Scottsdale, Arizona area.
Received her Bachelor of Science in Genetics from UGA.
Earned her Doctor of Medicine at the Ohio State University.
Completed an internship in general surgery from the Naval Medical Center San Diego.
Served as a battalion surgeon (general medical officer) at the Marine Corps Base Camp Pendleton in southern California.
Served as a Medical Aid Station Director during Operation Iraqi Freedom in 2006.
Finished a four-year residency with the Department of Orthopedic Surgery at the Naval Medical Center San Diego.
Joined the Department of Orthopedic Surgery as an Orthopedic Surgeon.
Deployed to Afghanistan to serve as the Orthopedic Surgery Department Head as part of Operation Enduring Freedom in 2012.
Obtained her orthopedic sports medicine fellowship at OrthoCarolina in North Carolina.
Assistant team physician for the 2016 NFC Champions, the Carolina Panthers.
Served as a team physician for the University of North Carolina at Charlotte and the Davidson College in North Carolina.
Served as the team Orthopedic Surgeon for Phoenix Mercury and an official orthopedic consultant for the Tempe Union High School district.
Recognized for her humanitarian efforts and her hard work and commitment to the military, medical field, and general public, Dr. Brown is the recipient of nine military awards and honors, including the Bronze Star and the Navy Commendation Medal. She continues to serve the military and her country as a Navy Reservist.
Since 2013, Dr. Brown has worked as an orthopedic surgeon independently and for the U.S. Navy Reserves.
Named a fellow of the American Board of Orthopedic Surgery, the American Academy of Orthopedic Surgery, the American Orthopedic Society for Sports Medicine, and the Arthroscopy Association of North America.