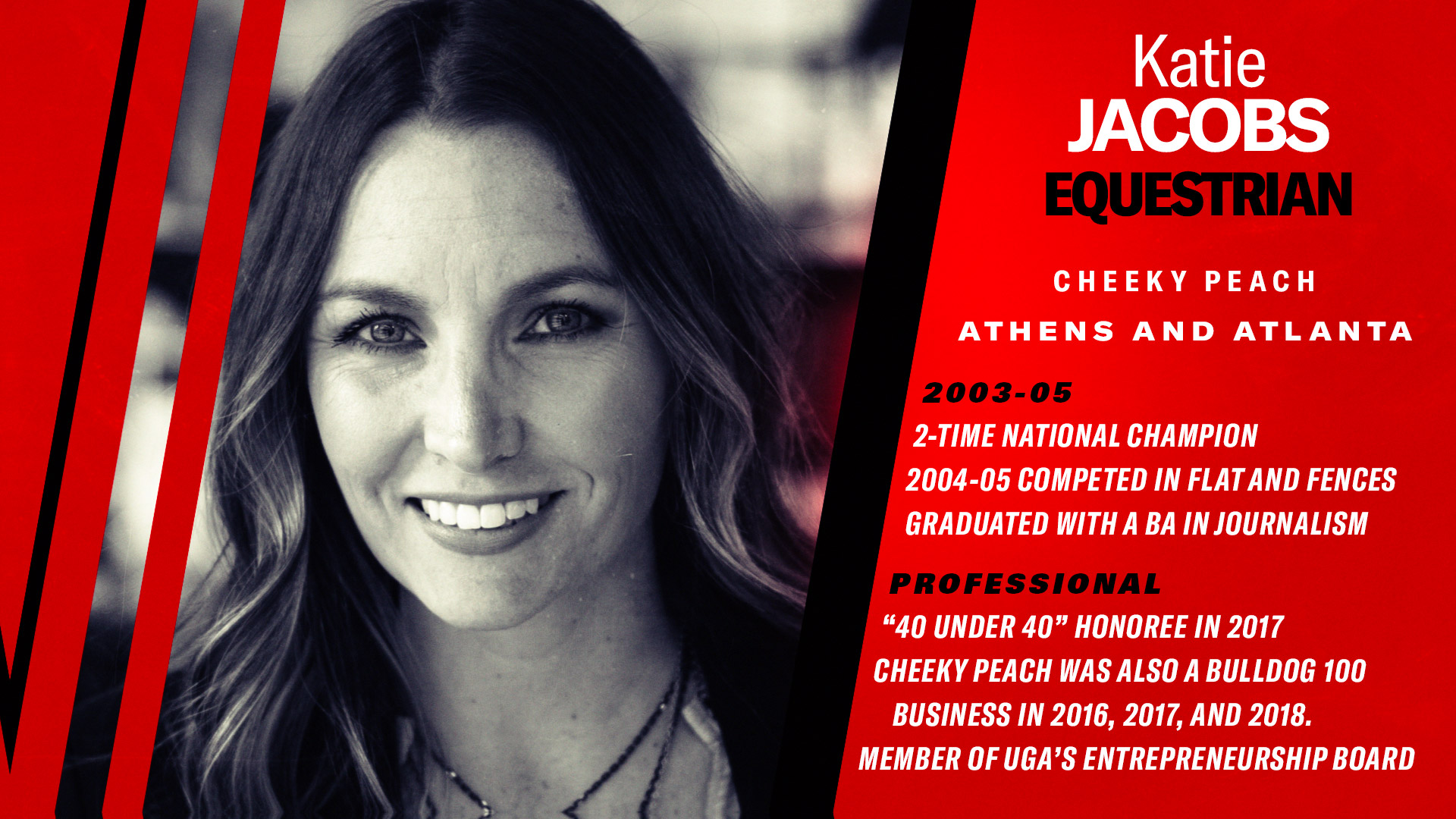 Katie founded Cheeky Peach on August 5th, 2010. Since that time, Cheeky Peach has grown from an 850 square foot store to being over 6,000 square feet. Katie was recognized as a "40 Under 40" honoree in 2017. Cheeky Peach was also a Bulldog 100 business in 2016, 2017, and 2018.
Katie's latest passion is supporting the university's focus on innovation by joining UGA's entrepreneurship board. As Katie describes it, the board "provides student entrepreneurs with a supportive environment and a lot of resources." Students in the program also have opportunities to enter contests to receive financial support for their ideas.
Quote from coach Meghan Boenig:
"Katie is a mentor at heart. Just watch a few of her social media clips with the Cheeky Peach and you can see the zeal at which she encourages and empowers her staff. She constantly engages with the alumni and Bulldog nation to support her university. She has grown a thriving business in downtown Athens twice now outgrowing her space! She expanded her business to Buckhead, Georgia by opening a second shop. She supports women as mothers, business leaders and business owners. We are thrilled to have her as an alum."
Katie Jacobs
Sport: Equestrian
Playing Years: 2005-06
Business: Cheeky Peach
Feature Story: View
Feature Video: View
Katie Jacobs
Graduated with a Bachelor's degree in Journalism with an emphasis in Photojournalism.
2004-05 Competed in Flat and Fences with a 3pt margin of victory in the flat over Ohio State
Very active in the Athens volunteering community, including fundraising for Extra Special People Inc.
Founded Cheeky Peach, a popular boutique in Athens, in 2010. In 2021 she opened a second store in Buckhead, Georgia.
Member of the UGA Entrepreneurship Advisory Board, Java Joy Advisory Board, Atlanta Apparel Advisory Board, and Georgia Soft Goods Education Foundation.
Named to UGA's "40 Under 40" list in 2017.
Made the UGA Alumni Association's Bulldog 100 List in 2016, 2017 and 2018.
Started a blog and has social media following supporting women and local small business owners.